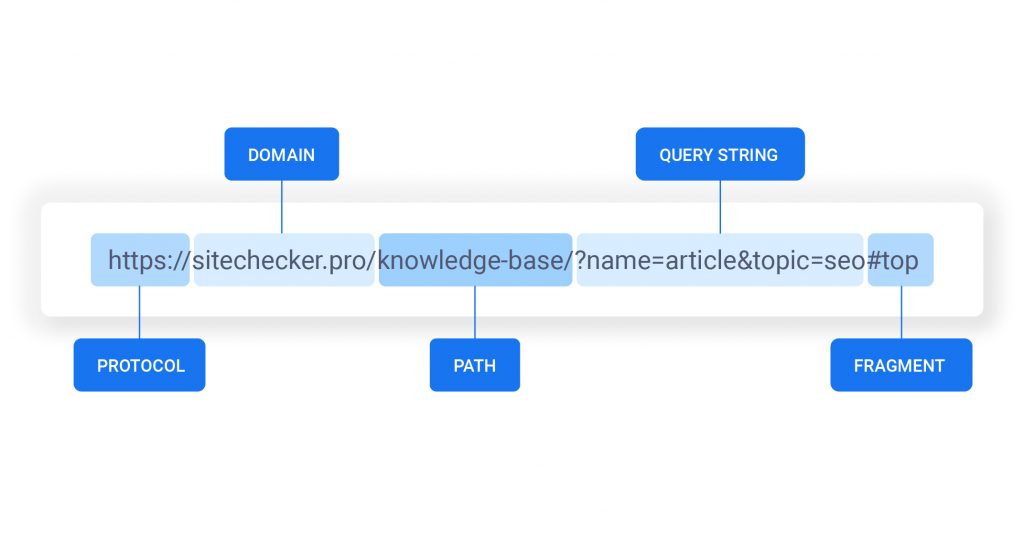 Best Way To Optimize Your Web URL Structure
URL is the web address of your page. It is what a user sees in the browser's address bar as it helps locate a particular site. Just like an ordinary geolocational address, it guides a user to his destination while assisting the algorithm in sorting through millions of online pages and delivering the result according to the search.
In online marketing, it holds great significance, as its tailoring equates to moving an extra step in the right direction. Integration with SEO and ranking makes it synonymous with fundamental marketing techniques used by global enterprises and online-based companies. In the way things have started shaping up today, dusting essentials like website creation, optimization, and little-bit SEO incorporation is not enough. Instead, you need to take your site's URL with seriousness and optimize it for the maximum potential of your online presence.
While several people ignore URLs in the wild scheme of things, it's a practice that can bounce back and hurt you. Therefore, every digital marketing company considers URL optimization before getting to anything else. In this blog, we will educate on the nitty-gritty of URL optimization and take you in inches distance with rapid outcomes!
Why Does URL Structure Matter?
Before we get into the niche topics, let's just straighten out the facts and guide you on ways URL structure matters and will be a source of fruitful aftermath for you.
Since URL directs a user straight to your page, it is one thing that must be optimized with supremacy and excellence. It's like imagining your home address; the simpler, the better! With experimentations and research, it has been found that a simple URL structure without complexities has the power to attract your potential prospect. This is because straight-forward web addresses are easier to remember and can stick to one's mind for a considerably larger period.
Moreover, URLs provide a reference to what a page is about. They act as nuanced portrayals of the content you integrate and build your website upon. Hence, whenever a user reads an optimally structured URL, he instantly knows everything that must be coming up, and his attention is gathered right away. Compare this to a long and poorly maintained URL that doesn't guide your prospect and instead leads into obscurity; you get the point, right?
Additionally, URL, when coupled with staunch SEO integration, creates a formidable combination that screams effectiveness! Although a mere URL has no significant impact on ranking, its harmony with SEO certainly has!
A company like Best SEO Singapore has dedicated its life to SEO and conceives every factual detail based on the fruitfulness of a proficiently structured URL.
Tips for Creating a Good URL Structure
Creating a good URL takes minimum effort but yields substantial results! Some of the tips to do that are as followed.
As we talked earlier, the more concise, the greater! Furthering this point, you can consult any SEO or marketing expert, and he will have a list of advantages that a smaller URL possesses over ones lasting like strings. Therefore, whenever you're managing these web addresses, you need to make them compact, brief, and yet full of brevity. A few words must be enough to make it relevant to the content and lure your prospect. As well, it gives a more excellent room for your audience to remember your product or service as the next time they want to type in your URL, they can have some relevancy to relate and remember. Just for an estimate, your characters shouldn't exceed 2000 words mark.
Besides, adequate URL organization is imperative! It means that you are endeavoring to assist your prospect in the best way possible. When it comes to organization, structuring it based on subfolders, directories and categories are always preferred to sub-domains. This is due to Google's tendency to consider every subdomain as a different entity, therefore breaking the cohesion between different site pages.
Also, a simple but effective URL secures your chances with crawlers. Creating a connection between distinct pages enables the crawlers to skim conveniently through them and formulate relevance with each other. This has the potential to display several pages of your site on a single search, which indirectly is everything you want on the internet.
For instance, observe how multi-trillion companies tailor their addresses to be compact and yet so impactful. You need to pull off that exact technique!
SEO best practices for URLs
Without a pre-planned SEO approach, you can never be confirmed a stable footing in the internet world. You may be thinking that you have perfected every SEO practice in the website's content, but URLs are something you cannot ignore.
One of the primary URL practices is convenient readability. It can come from being concise and relevant but also from the sheer outcome of hyphens. Yes, you heard that right! Hyphens are it. Whenever you want to break down the string of words, hyphens are your best companions. As per recommended practices, URLs should never include space, underscore, or other such characters, especially when sectioning it into different parts.
Secondly, we have the use of lowercase letters. If kept as a rule of thumb, lowercase letters ensure that different web addresses do not mingle and get confused. It acts as cleavage that assigns every page its own place on the internet.
URL parameters are something that you need to do in a lesser amount. Amplifying their usage can lead to duplication. This is because several online pages could be offering the same stuff as you, with the same content, and thus pages can mix-up. However, avoiding it means you curtail the number of such mishaps by a considerable margin.
What Use Are Keywords in a URL?
Keywords invade your mind the moment you think about SEO. They go hand-in-hand with a connection that every social media expert knows about. In simple terms, keywords are the words searched by a user when looking for something. Therefore, the more optimized your content is with keywords, the greater the chances of ranking are.
Now you could be wondering that well, you have neatly integrated them in the actual content, and you are done, but the reality is different! Even your URL needs to be consistent with keywords for the most enhanced gamble.
Whenever your URL includes a relevant keyword, the search engine does its job, sorts through pages, skims upon content before displaying the most relevant results while also looking for URLs that match the typed keyword. Ultimately, you have enhanced your chances of being found out by the Google bots and are a step closer to bagging the top position!
Best SEO Singapore provides a range of services crafted upon after years of grind. With such a significant SEO service provider, you strengthen your position to master SEO integration and keyword involvement!
Best Practices for URL Structure
The list for SEO practices is practically a never-ending one! With vast resources and experimental occurrences, companies and engineers have come across many techniques that can put your URL in a suitable threshold. Here are some of those.
Whenever you are looking to integrate keywords, you must be meticulous with their usage. Finding relevant and most-searched ones is an easy job; however, many people still forsake that and incorporate any word they come across. This is detrimental for the entire overview as it negates the point of your effort. Today, there is a multitude of keyword tools, giving you the best results without any effort. However, it is worth considering that they are mostly paid versions. But we believe that you must be willing to shed out some cash when you want the results you desire.
Besides, forsaking stop words is another practice that you be eyeing for. Negating its use means you are keeping your URL short and to-the-point without additional stuffing. Everything from words like 'an' to 'the' need to be scraped out.
Moreover, adherence to trustworthy means goes a long way into registering your site as a reliable source. Nothing matters more than user experience for Google, and therefore, you need to keep every aspect of your site in line with Google's rules and laws.
Why Are URLs Important for SEO?
As we discussed earlier, URL has the potential for improved SEO. This is in correspondence to all the great user experience-based elements made possible by a well-done URL. Such may range from enhanced readability, thanks to conciseness, to everything about staying relevant. It all comes down to end-user experience; the more cohesive and excellent, the better!
URL Structure & User Experience
Talking about user experience, a URL structure governs how a prospect determines something about your company. When everything is done in accordance with what we have discussed so far, you will be gaining total points for the ultimate experience.
SEO services in Singapore have changed over the years; however, one thing that has undoubtedly stayed is our reliability with solutions. With in-depth market analysis, peerless keyword research, and top-of-the-line implementation, we believe in your company's groundbreaking success. We match our skill to your need to forge an unresistible combination of growth.